Articles
Published on October 13th, 2010 | by Charlie
0
Review: Alan Wake: The Writer
Release Date: 12 October, 2010 Genre(s): Action Thriller, Third-Person Shooter Publisher(s): Microsoft Game Studios Developer: Remedy Enterainment Rating: 15, Teen [Rating:9/10] After 700,000 sales, seven episodes, with this one as the eighth and hundreds of Taken killed, Alan Wake comes to an end, and it certainly does go out with a bang. In the last DLC, known as The Signal, Alan found himself in a distorted Bright Falls. But in order to wake up from a nightmare he is having in the Dark Place, he needed to follow the signal Thomas Zane gave him on a GPS. Once he reached Tom, Alan ended up facing himself in an intense battle. But it seems that there is no way out… is there? In this brand new DLC, Alan has finally been made aware of what is happening around him. Alan needs to find his way to the lighthouse, but he cannot do so alone without Thomas Zane's help. Guiding Alan with manuscript pages, Alan makes his way through past memories during his stay in Bright Falls, and everything around him starts to play tricks. But does he really believe the things that are said?
The story did clear a few things up, for example, why Alan faced himself in the previous DLC. It didn't clear up things in the main storyline game, as the two DLC's are stand-alone, but they were connected to each other. I must be honest, I did expect a little bit more of a story, but all those feelings go away once you see the ending of the DLC. The gameplay mechanics are just the same as in the game, but you got to use some more Typewriter words, which are what come off a manuscript page, and you need to point your torch towards them and they'll explode into an item. There is a bit with the word "roll" and big barrels roll down a hill, and once it hits a Taken, it explodes killing that Taken and those that may be around it. It's pretty awesome seeing such a wonderful light show. There is also an intense bit whist heading up to the lighthouse, and if you are trying to obtain the achievement "Go Gentle Into That Good Light", it will make you panic, and it's always good to have a sense of panic in a game like this, as it adds fear. It was also nice to see some of the memories we had in the main game, but in a more different way. I shall not spoil the surprise, but let's just say you'll feel like you're at the fair. Also, something new added into the game, is the idea environments around you will spin around. It really makes the depth of Alan's mind feel more real, as a writer's mind must be more mad than anyone elses. The way the gameplay was changed slightly really helped pull the DLC through, and the DLC certinaly felt fluent all the way around, as everything seemed to have been timed perfectly.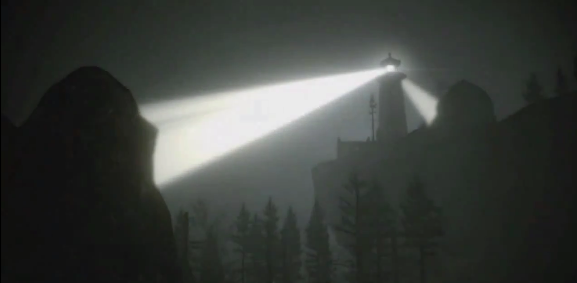 As this is Alan's mind, Barry returns, woohoo! Everybody loves Barry… don't they? Barry is as sarcastic as ever, which always cheers me up when playing the game just before an intense fight with many Taken. You do get to see many other characters, but only briefly, but it's always nice to see some familar faces. The DLC did feel a little short, as the average game time is around 1 hours, maybe 2 if you play on Nightmare difficulty. But there's no achievement for that, which brings me onto my next point. Guess what achievement is back? The achievement where you have to complete the DLC without dying. Woohoo….. There were some neat achievements in there, one which requires you to find a secret location. There's also another collectable achievement (again, woohoo?) which requires you to find 10 Night Springs video games. Oh yes. Night Springs had to appear somewhere! The DLC certinaly gives you an ending you did hope for, if you are a huge fan of Alan Wake. The DLC adds a good hour of gameplay, and considering the DLC is only 560 MSP and 9 achievements to play around with, you can't hardly complain. It was nice to seem some familiar faces again in the DLC, and the collectables were a nice idea too. The story did feel a little weak, but that wasn't a huge issue as there wasn't too much of a story in the story arc anyway. It's sad to hear that there won't be any more Alan Wake DLC, but let's hope what Remedy give us next is just as pleasing! Bring on Alan Wake 2. —————————————————————————————————————————————— Don't forget to watch our video walkthrough of the DLC! Click here for all the parts.