Previews
Published on September 13th, 2012 | by Daniel
0
Demo Impressions: FIFA 13
FIFA is back. The yearly football sim that removes boyfriends from their girlfriends lives for the foreseeable future is back this week, with EA Sports releasing a demo for their footballing mega-franchise; and what a return it is. When you first start up the demo you'll notice small visual tweaks to the game menus and the like whilst browsing the various game types that await you in the full game but it's what awaits you in this demo of the game that makes FIFA 13 a very interesting prospect indeed. When you start up a kick off game in FIFA, you'll see the Match Day feature already in full effect. Match Day is a real-life tracking system that mimics the real life form and league position of teams and players to form a more time-accurate rating for the players and teams. For example, in this demo, the 2011/12 Premiership winners Manchester City are currently pegged at 4th in the Premiership whilst their rating stands at 87 for attack, 84 for midfield and 82 for defence as compared to 85, 83 and 81 respectively when Match Day is turned off. What Match Day does, then, is make FIFA more life-like by re-creating the form of teams within the game, a feature that is sure to get interesting as the season rolls on. What I also think it may do, unintentionally, is discourage players to play as their favourite team if they're having a slump of form. This of course is a shame as players want to play as their beloved teams on FIFA against their mates. Obviously, Match Day can be turned off but I don't know how EA are going to work the online portion of their game regarding Match Day.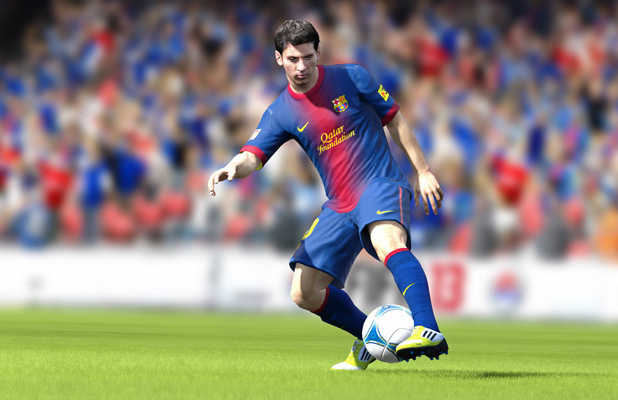 Once you've picked your team you'll then be presented with another new element in FIFA 13- skill games. Skill games are mini-games that you can test and hone your skills in whilst waiting for a match to load. You can test your crossing, dribbling, lob passes and the like in the arena before a game in the demo and in the full game it'll be a standalone mode too. These skill games are very fun to play, addictive to master and will surely lead to a lot of competitions between friends even before the real games have started. Now to the football. As usual with FIFA demos, you only get a short amount of time per game to try out EA's latest offerings (3 minutes a half to be exact) and you can pick from Arsenal, Manchester City, Borussia Dortmund, AC Milan and Juventus to play as. Within the game there are two major additions to gameplay this year; 1st Touch Control and Attacking Intelligence. EA touts that 1st Touch Control makes the game more unpredictable by taking away the glue-like feet of every single player from FIFA's past and making everyone unique. The idea is that depending on the skill, positioning, pace and angle of your player relating to the pace, spin and angle of the ball every first touch will be different. Loft a ball over the top of the defence to Podolski for example, and he's likely to control it deftly and finish it off. Play a heavy ball in to a sprinting defender though and he's likely to mis-control it. It really does make the game more unpredictable and varied; you have to assess the factors surrounding your pass and subsequently your touch afterwards, being smart about which passes you play and how you receive them. One example I encountered was Podolksi mis-controlling the ball which sent it spinning into the air, only then I was able to recover and half-volley it into the top corner of the net. This instance turned out to be a positive effect, but it still made me re-think my original plans and improvise and adapt to the situation. Attacking Intelligence on the other hand is supposed to provide you with more attacking options to combat the tactical defending that was introduced in FIFA 12. Run with the ball at the defence and you should have more varied and surprising runs to accompany you; attackers should bend runs to stay onside, run diagonally to make space and just give you more choices in general. Surprise, surprise, they actually do, which means more attacks and hopefully, goals in games rather than being crowded out by a 10-man wall of defenders.
Elsewhere, there are other improvements to visuals and presentation (they're slightly improved over FIFA 12, looking slicker and smoother), the Player Impact Engine (again, slightly improved which hopefully means no team-mate physics fights) and free-kicks along with a new Complete Dribbling mechanic which takes cues from FIFA Street and allows you to have a lot more control over the ball when holding down both triggers. Overall, the FIFA 13 demo is a very impressive package. There's no game-changing innovation like the Tactical Defending of FIFA 12, but there are significant improvements that build upon the great foundations laid in FIFA 12 which makes for an extremely accomplished game, on the basis of the demo. I personally cannot wait for the full version of the game to come out so I can try the improved versions of Career Mode, Online Seasons and Ultimate Team alongside new additions such as Live Fixtures and Games of the Week. FIFA is back, and boy does it feel good.