Articles
Published on October 11th, 2010 | by Charlie
0
Classic Review: Alan Wake
*This review is from a previous site that is no longer running, so we're bring our reviews over. Alan Wake is heeeeeerrrrreeeee…… OK this might not be "Poltergeist" but this game is just as scary as that, even though Poltergeist was made decades ago. I've managed to obtain my Limited Edition copy a day early which I am very pleased about…. sadly it might mean I have to give up a £10 bet…. I wished that Alan Wake would arrive a day early and if it does, I'd give up my £10 bet my mum and I are currently having… I won't explain. Anyway, let's move onto the review! The game has had many inspirations, some of which are Twin Peaks, Lost and many Stephen King books, hence the reference in the first two words of the game. The game is set in the month of September (yes I worked that out for you guys) and Alan Wake, and his wife, Alice, head to Bright Falls, a small town around Washington. They head to Bright Falls for a vacation and hopefully to help Alan find some peace, as for two years, he has not been able to write a single book, as he is a very famous writer. He hoped he could come to Bright Falls to get peace from the media and such, but of course he forgot one thing… he has fans. But that's not the worst of his problems. His wife, Alice, who has a fear of the dark, suddenly vanishes without a trace, and before he knows it, Alan is facing people taken over by the darkness, who are known as "The Taken" and is searching for his wife, but at the same time, he is uncovering another mystery. He keeps finding pages of a manuscript from a book he cannot remember writing, which seems to tell the story of the events unfolding in front of him, events that have happened, and those which are yet to come.
The storyline sounded very promising when I first read it, and lives up to what you would expect from the game, and the manuscript pages adds some great detail, for example, if you are confused about an event, you might possibly come across a manuscript page that explains it. The manuscript adds a great mystery to the game, but I couldn't help notice that, rarely, the manuscripts do spoil chunks of the plot, but it doesn't stop you from wanting to experience that event yourself. The gameplay is rather different to many other games. As Remedy tells you (countless times in interviews) you need to "Fight with Light" which is literally what you have to do. When attacked by the Taken, you need to use your flashlight (or some sort of light source), and once the darkness has been burned away, you may use your weapon to kill it. If you use a very strong light source, such as a flare/flare gun/flash bang, you can kill the Taken instantly, which comes really handy when multiple enemies are attacking you. It's also nice when your kills (including other statistics) are shown in a menu, so that you know how many you have killed so that you know how close you are from the achievement. It was rather different and it was quite an enjoyable way of playing the game. The landscapes in the game are gorgeous and it is amazing that Remedy managed to make something so big. I did notice a couple of things that was tearing up the screen a bit but as soon as I went past it, i soon forgot about it.
Throughout the game, there are certain collectables you have to obtain. You got to obtain the manuscript pages, which there are 106 of them (just under 100 in Normal mode, and the rest are in nightmare mode), and 100 coffee thermoses. There are other items in which you can obtain or mess around with in order to get achievements. Those are the TV's, radios, chests and can pyramids. I do enjoy a good collectable and I believe every game deserves them, and most games do have them. The collectables in the game was a good range, and it helped to progress throughout the game, but I just felt like there was too many! I mean you got to mind so much, and not to mention you have to find even more pages in nightmare mode and it's just mind blowing. Some people don't like to do the hardest difficulty but love to collect and this would just be too hard for such people. I will praise the range of collectables though. The idea of coffee was great, as I'm sure with being awake every night, you do need it! I do, however, feel as if these items were in rather odd places and some of which you can barely find. I would have preferred it if Remedy had made the collectables just a tiny bit easier to find. Overall, most of them are quite fun to obtain. The idea of the game being in episodes was perfect. It really added the tension into the game, and when the "previously" comes up, it felt just like a real TV show. The soundtrack really made the game something to be scared for and you get some songs created by many famous artists and you just think: That song is perfect. It really adds to the stillness of the mood. As always, there is a downside, but it is only a minor one. Too short of a game! You only get 6 episodes, each averaging between 2-3 hours (45 minutes – 2 hours if you just try to leg it through the episode). I know that there is more DLC content, which is great, but it would have been great if we would have got more out of the game early on. I do however look forward to the first DLC, which I will praise Microsoft/Remedy for inserting the first DLC for free into new copies of the game. I look forward to the DLC and expect a review of it near the end of July.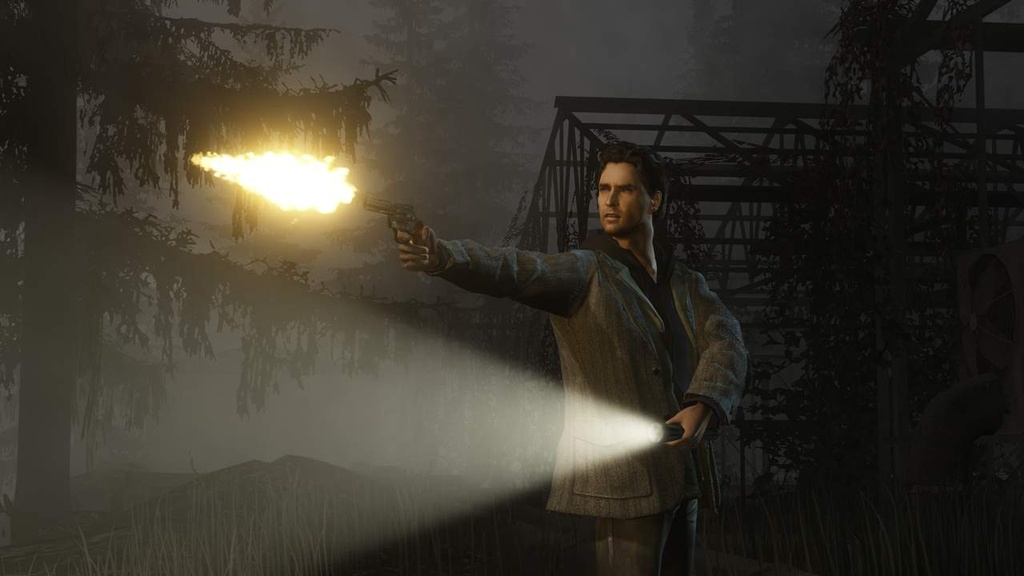 The characters in the game were pretty much spot on. They were exactly what you might find in the game. My favourite character was, of course, Barry Wheeler. He is just so funny and he really makes the game really enjoyable, and you love to have him around. If there is a season two, he better be in it, or I will sue! (Barry is your best friend and your agent) Although we didn't see much of her, Rose was my second favourite character. She was just so cute and really loveable and I would also love to see her again if a season two if it were made. Rose is a huge fan of Alan Wake and of course, when she finally meets him, she is just lost for words… well more like the other way around. There are more characters but I will let you experience them for yourself as you will definitely have mixed emotions for all of them. The only downside about the characters is something that's not really their fault. It's Remedys. The lip syncing was rather off. Sometimes it fit the speech, and sometimes it didn't match at all, but I hear they are fixing it in the next DLC, so that's just fine. So now we have an overall ending. I thought that the storyline was absolutely brilliant, and the cast list and characters chosen for the game was perfect. Many of them are loveable and there are some who you just hate. (By that, I mean by their involvement in the game etc) The idea of an episodic feature is just perfect and the gameplay is much different from other games. The landscapes are absolutly amazing and I love to look around the place sometimes. I would have like it if we had received just a few more hours of gameplay and I feel that the collectables could have been easier to find. The soundtrack is flawless and I do not regret buying the game at all. I just cannot wait for the DLC and the next season.